The heat is on
March 23, 2020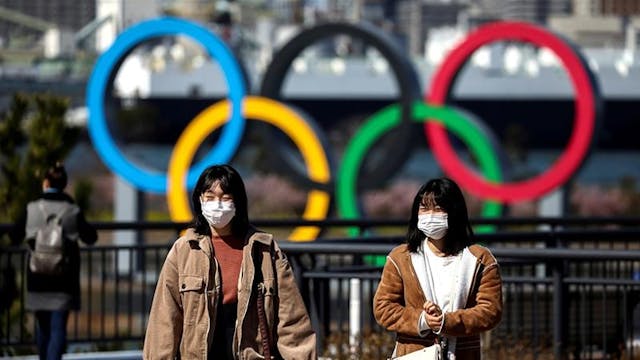 The GIST: We have a deadline, folks. The International Olympic Committee (IOC) is giving itself four weeks to figure out how the heck they're going to deal with the 2020 Summer Olympics, set to begin on July 24th in Tokyo, in response to the COVID-19 pandemic. And if they don't postpone it, Team Canada and Team Australia won't be there.
What?! Why not?: The Canadian Olympic Committee (COC) announced the very difficult decision late last night, saying they would not risk their athletes' safety by sending them to Tokyo if the Games are held this summer. Canada has been at the forefront of this movement, with Canadian Olympic hockey and softball legend Hayley Wickenheiser opening the floodgates last week with her comments about the IOC's inaction.
Very soon after the COC's announcement, the Australian Olympic Committee (AOC) told their athletes to prepare for a 2021 Summer Olympics, saying that an Australian team cannot be assembled safely and in time for the 2020 date. Many Aussie athletes train around the world and the AOC believes they'll face too many major delays to their training to be ready for July.
Wow. What are other countries saying?: Well, Canada is the first country to officially step away from the Games, but we think it's pretty likely that other countries will follow suit. That said, yesterday evening US Olympic and Paralympic Committee (USOPC) CEO Sarah Hirshland said that she's not in the position "to make demands of those making decisions."
The USOPC sent out a survey to 4,000 Olympic hopefuls over the weekend to see if they'd be interested in postponing, and we have a feeling that Team Canada's decision may influence the survey results.
So what are the IOC's options?: They have two: postpone, or keep calm and carry on. Unless you were isolated in the desert for 12 days like Jared Leto, you'll know the latter is probably the worst possible scenario. Just thinking about 11,000 athletes and millions of fans congregating in Tokyo gives us the quarantine cringe.
And despite the fact that Japan's climate could allow for the Games to take place in September or October, with Canada stepping out, postponing for a year seems like the only option.
And what about cancelation?: The IOC said they will definitely not cancel. As IOC president Thomas Bach said, "The Olympic Games cannot be moved like a football game next Saturday," and he's not wrong. The planning and operations of the Olympics start nearly a decade before the Opening Ceremony, and outright canceling would mean not only a logistical nightmare, but also financial ruin and 11,000 Olympic dreams crushed.
What do the athletes want?: They want an answer, quick. Until they know for sure that the Games will be canceled or moved (and unless they're Canadian or Australian) they have to keep training. And thanks to the #stayathome movement, it's becoming increasingly difficult to do so.
The Italian Olympic Committee has made a similar plea, especially because many of their athletes are on complete lockdown and not legally allowed to leave their homes, and World Athletics president Sebastian Coe and hurdler Lolo Jones have called for postponement, too.
And what does The GIST think about this?: Although we're really feeling for the athletes right now, we're proud of Team Canada. Making the decision to withhold their athletes was bold and understandably difficult, but we think it needed to be done. By showing how seriously the COC is taking the risk, we're hoping it will allow other countries (especially those more severely affected right now like Italy and Spain) to feel comfortable about making the same decision.