NBA Conference Finals: Heat take down Celtics in Game 1
May 18, 2022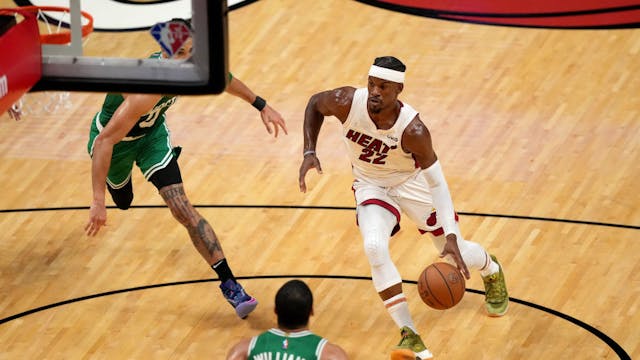 SOURCE: ERIC ESPADA/GETTY IMAGES
The GIST: As celebrated on yesterday's episode of The GIST of It, the NBA Conference Finals tipped off last night. Even better? There's another Game 1 on deck tonight. Party.
Eastern Conference: This highly anticipated rematch of the 2020 Conference Finals did not disappoint, as the top-seeded Miami Heat defeated the No. 2 Boston Celtics 118–107 to claim an early series lead. Miami's leading scorer? Jimmy Butler, of course. They don't call him Jimmy Buckets for nothing.
More bad news for Celtics fans? It's still not clear whether starters Marcus Smart and Al Horford will return for tomorrow's 8:30 p.m. ET Game 2 after missing last night's tilt due to a foot injury and COVID-19 protocols, respectively. Stay tuned.
Western Conference: The No. 3 Golden State Warriors host the No. 4 Dallas Mavericks tonight at 9 p.m. ET, opening what's sure to be a thrilling battle between Dallas demigod Luka Dončić (who's averaging a casual 31.5 points per game these playoffs) and Golden State's second-best in the regular season defense.
As for the Warriors offense, Steph "college graduate" Curry, Draymond Green and Klay Thompson will be looking to resurrect the magic from their 2015 to 2019 run of five straight NBA Finals appearances. A dynasty reborn?