The GIST: Do you get déjà vu? After a pair of neck-and-neck division finals yesterday, the 108th Grey Cup stage is set to be a rematch of the 2019 final between the Hamilton Tiger-Cats and the Winnipeg Blue Bombers.
December 06, 2021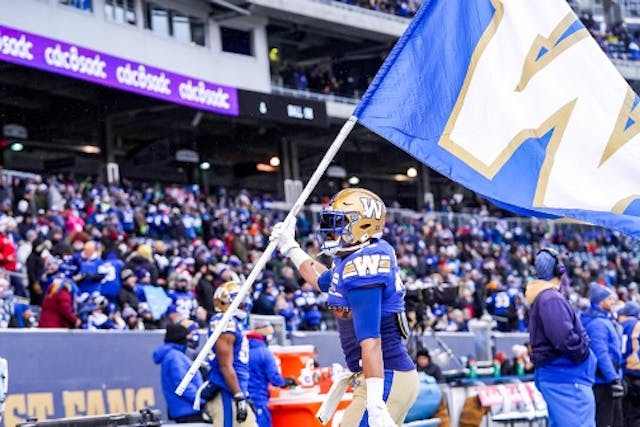 SOURCE: WINNIPEG BLUE BOMBERS/TWITTER
How we got here: It was a smooth ride to the Cup for the reigning champs (the 2020 season was canceled due to COVID-19), as the Blue Bombers finished first in the league, before defeating the Saskatchewan Roughriders 21–17 in the West Division final.
It took a bit more effort from the Ticats, who finished second in the East before completing the 27–19 upset over the Toronto Argonauts. Eat 'em raw!
What's next: The Grey Cup, this Sunday at 6 p.m. ET in Hamilton. Winnipeg will fight to defend their title while the Ticats look to get the win in front of their loyal fanbase.
As good as the game will be, we're also pretty pumped to see the real people's champ, the local Arkells, perform at halftime.
Elsewhere: In Canadian university football news, the Western Mustangs captured their eighth Vanier Cup as they defeated the Saskatchewan Huskies 27–21 on Saturday. It was anything but a Schitty weekend for these Mustangs.