MLB season reaches halfway mark
July 20, 2022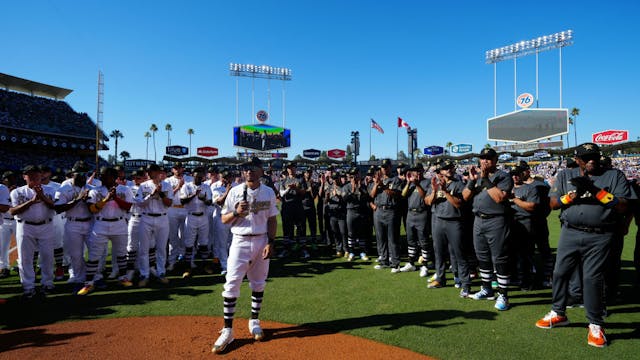 SOURCE: DANIEL SHIREY/MLB PHOTOS VIA GETTY IMAGES
The GIST: After (current) Washington Nationals star Juan Soto won Monday's Home Run Derby and the American League (AL) defeated the National League (NL) 3–2 in last night's All-Star Game, the real fun is just beginning. The second half of the MLB season gets underway tomorrow, featuring more teams than ever in the playoff mix. Batter up.
American League: The NY Yankees have been living up to their Bronx Bombers nickname, blasting a league-leading 157 home runs en route to baseball's best record and likely an AL East title. But the race is close in the league's most competitive division, despite the Toronto Blue Jays and Boston Red Sox sputtering into the break.
It'll likely be a three-way race for the pennant in the Central Division, with the Minnesota Twins, Cleveland Guardians and Chicago White Sox all in contention.
And over in the West, they who must not be named the Houston Astros are top dogs (by a lot), but the real story is the Seattle Mariners, who won 14 straight games heading into the All-Star break. Better believe it.
National League: For the first time in a long time, the NY Mets are giving New York baseball fans double to cheer about, riding their hot start to the No. 1 spot in the NL East. That said, the defending champ Atlanta Braves have slowly closed the gap thanks to their stellar pitching. Defense does win titles, after all.
As for the Central, the St. Louis Cardinals trail the Milwaukee Brewers by just half a game as they look to send future Hall of Famer (and our winner for most adorable Home Run Derby moment) Albert Pujols out with another World Series title.
Rounding out the West, the LA Dodgers are still good at baseball and continue to dominate the atypically uncompetitive NL West.