Women's soccer: Four's a party
April 25, 2022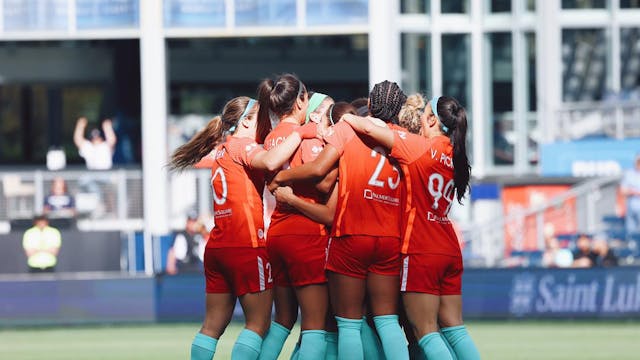 SOURCE: KC CURRENT/TWITTER
The GIST: Forget spring, championship season has sprung in the soccer world, with domestic and international playoff competition about to reach full bloom. Time to give 'em their flowers.
NWSL: The May 4th Challenge Cup semifinals (which, yes, take place after the regular season starts on Friday) are officially set and will feature two of CanWNT's finest, with Quinn leading the OL Reign and Desiree Scott leading the Kansas City Current. The North Carolina Courage and Washington Spirit round out the rest of the field.
All four squads will be looking for their first Challenge Cup trophy in the third iteration of the tourney. Who doesn't love some hardware?
UEFA Champions League: Meanwhile, the Champions League semis are already underway overseas. Defending champs Barcelona ran up the scoreboard (while breaking their own global attendance record!), defeating Germany's Wolfsburg 5–1 in Friday's Leg 1.
Yesterday's all-France semi was much closer, with CanWNT's Kadeisha Buchanan's Lyon topping Ashley Lawrence's Paris Saint-Germain 3–2.
These semis are decided on aggregate, meaning the goal totals from this weekend's Leg 1 and next Saturday's Leg 2 will determine which squads advance to next month's final. Are you ready for some fútbol?