Guide to NFL Thursday, Thanksgiving Edition
November 26, 2020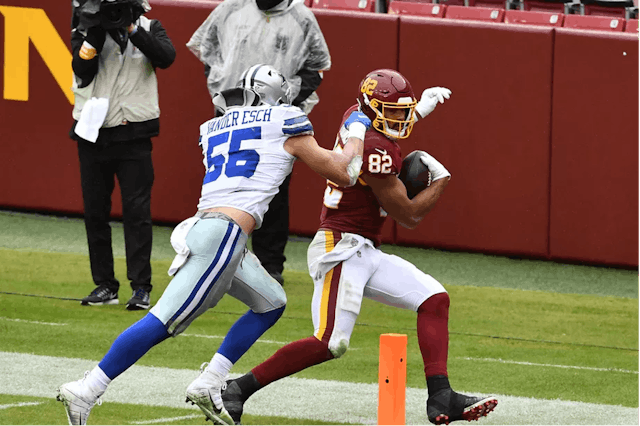 SOURCE: BRAD MILLS/USA TODAY SPORTS
The GIST: It's Thanksgiving in America, which means two great things for Canada: tomorrow's Black Friday deals, and today's NFL games.
Sweet! When does it start?: Thanksgiving football kicks off as it always does: with a Detroit Lions home game at 12:30 p.m. ET. The Lions have been hosting Thanksgiving games since 1934 (save for a hiatus during WWII), and they're joined this year by the Houston Texans.
Neither team has had a particularly stellar season so far, with the Texans at 3-7 and the Lions at 4-6. The Texans are coming off a clutch win over the New England Patriots on Sunday and will look to carry that momentum to give the Lions yet another Thanksgiving Day loss. Fun fact: the Lions own a pretty meh 37-41-2 Thanksgiving record.
Nice. Keep 'em coming: The Dallas Cowboys are the other Thanksgiving Day staple, competing during almost every feast since 1966. While they have an impressive holiday record of 31-20-1, the Cowboys and their fellow NFC East division opponents, the Washington Football Team (WFT), have matching 3-7 records this season.
The Cowboys will be playing with heavy hearts as they mourn the death of their strength and conditioning coach, Markus Paul. Paul, who won five Super Bowls as a member of the Patriots' and New York Giants' coaching staff, suffered a medical emergency during team practice on Tuesday and passed away yesterday.

We expect this one to be a messy matchup between two below .500 teams, but we think the Cowboys will continue their holiday tradition and take the win in honor of Coach Paul. Kick-off is set for 4:30 p.m. ET.
Any other games?: Unfortunately, that's it. The undefeated Pittsburgh Steelers were supposed to host the 6-4 Baltimore Ravens in primetime but, of course, 2020 had other plans.