NBA Finals: Steph Curry's 43 point performance evens series
June 13, 2022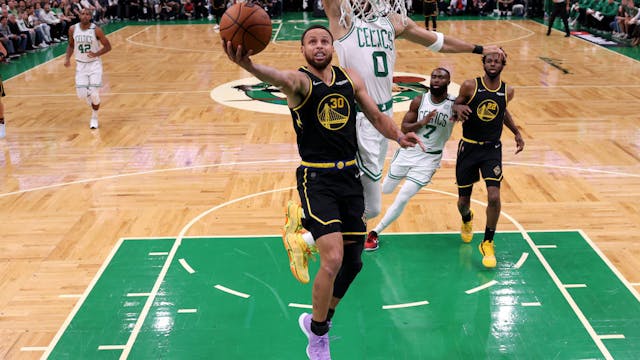 SOURCE: KYLE TERADA - USA TODAY SPORTS - POOL/2022 GETTY IMAGES
The GIST: Steph Curry? "Really good at basketball." The Golden State Warriors star put the team on his back in Friday's 107–97 Game 4 win over the Boston Celtics, evening the series ahead of tonight's pivotal 9 p.m. ET Game 5 back in the Bay. All tied up, baby.
Friday's Game 4: Curry silenced any lingering injury questions with a stunning 43 point, 10 rebound performance on Friday. He's now averaging 34.3 points per game throughout the Finals while the Warriors' next two top scorers (Klay Thompson and Andrew Wiggins) are averaging 33.8 combined. More like Steph Carry the squad.
As for Boston, Jayson Tatum (23 points, 11 rebounds, six assists) looked poised for a standout performance of his own, but the Celtics sputtered in the second half due to costly turnovers. A classic.
Tonight's Game 5: Of the 30 times the NBA Finals have been tied 2-2, the Game 5 winner went on to win the title 22 of them…so you could say there's a lot riding on tonight's tilt. And while the Warriors have home court advantage, the Celtics have not dropped back-to-back games this postseason.
Expect Boston's head coach Ime Udoka and their crafty defense to come with a game plan to slow Curry down. Question is, will another Warrior step up to help him? Tune in to find out.