May 23, 2022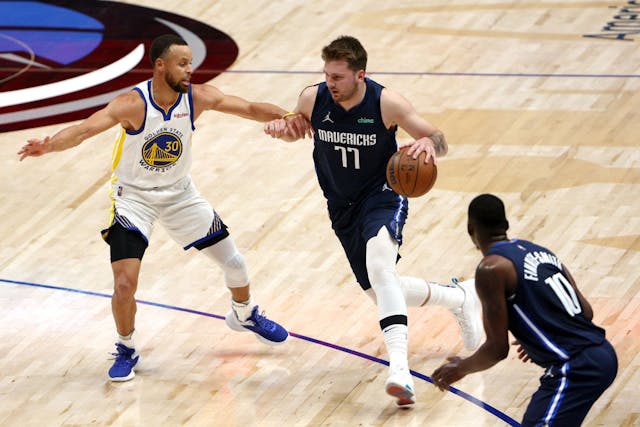 TOM PENNINGTON/GETTY IMAGES
The GIST: Forget Kourtney and Travis' wedding, the NBA Conference Finals pulled out all of the stops with some epic Game 3 clashes over the weekend. Game 4s, incoming.
Western Conference: The No. 3 Golden State Warriors (up 3-0) are just one win away from returning to the Finals for the sixth time in eight years after defeating the No. 4 Dallas Mavericks 109–100 last night. Warriors star Steph Curry had a monster double-double and his teammate Andrew Wiggins threw down a dunk that felt like a series changer.
Keep your brooms nearby — the Warriors will go for the series sweep tomorrow at 9 p.m. ET.
Eastern Conference: The No. 1 Miami Heat (up 2-1) overcame the second half absence of superstar Jimmy Butler (right knee inflammation) to hang on for a 109–103 road victory over the No. 2 Boston Celtics in Saturday's Game 3. Heat center Bam Adebayo stepped up to fill Butler's void, notching a double-double. Bam, indeed.
The story of tonight's 8:30 p.m. ET Game 4 could still be the injury report, though. While Kyle Lowry returned (in a big way) in Game 3 and Butler is expected to play tonight, Miami sharpshooter Tyler Herro is questionable with a groin injury.
As for Boston, starters Marcus Smart (who miraculously returned to Game 3 despite a scary ankle injury) and Robert Williams III (knee) are also questionable for tonight's tilt. No more injuries, please.