2021 NFL playoffs begin this week
January 09, 2021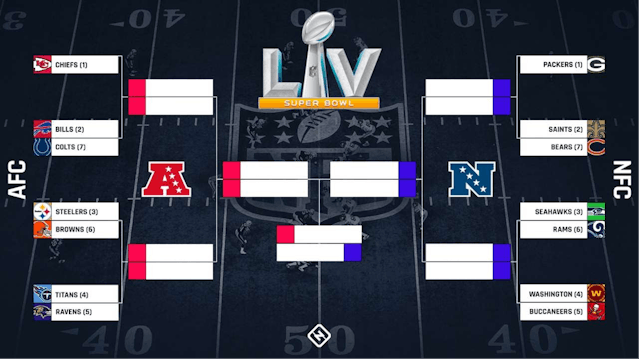 SOURCE: SPORTING NEWS
The Format
The setup: Expanded from last year's 12 teams, the 2020 NFL playoffs is sharing the love by featuring 14 teams: seven from the AFC and seven from the NFC. Within each conference, the divisional winners (North, South, East, West) as well as the next three best teams in each conference (the wildcards) make the playoffs.
The bracket: The NFL playoffs consists of four sudden death (aka one and done) rounds. Anxiety, is that you? The Wild Card Round starts today, then comes the Divisional Round, followed by the Conference Championships and, of course, it all culminates with the Super Bowl.
The advantage: Instead of the top two seeds in each conference receiving a first-round bye, this year only the No. 1 seed in each conference — the Kansas City Chiefs (AFC) and Green Bay Packers (NFC) — will move directly to the Divisional Round (aka the second round).
They're also the only teams that have a guaranteed home-field advantage throughout the postseason, but, TBH, that won't matter as much given the COVID-19 fan restrictions.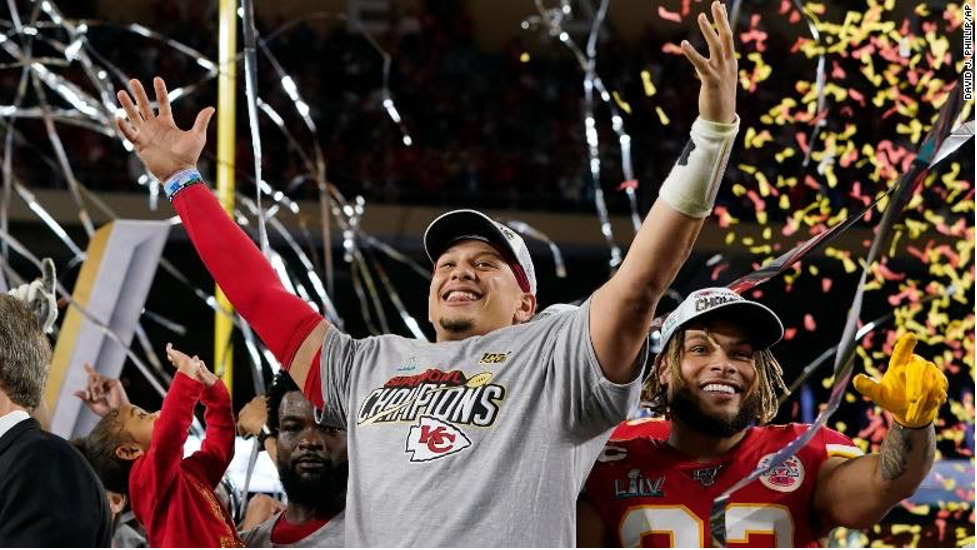 Teams to Watch
Kansas City, AFC, No. 1: The reigning Super Bowl champs are heading into the postseason with a 14-2 season record. Led by the ketchup-loving quarterback (QB), Patrick Mahomes, and the ever-stylish head coach, Andy Reid, they're a heavy favorite to repeat.
Buffalo Bills, AFC, No. 2: For the first time since 1995, the Bills won the AFC East. We can't believe we're saying this, but we wouldn't be surprised to see the Bills in the Conference Championships. Bills Mafia, get your tables ready.
Green Bay Packers, NFC, No. 1: Thanks to some team chemistry rivaled only by Summer Roberts and Seth Cohen, the Packers have a very real chance at winning the Super Bowl for the first time since their 2011 Championship.
As the only publicly owned franchise in the league, we're pretty down for this. Do you like cheese?
New Orleans Saints, NFC, No. 2: Led by veteran QB Drew Brees, the Saints are familiar faces in the playoffs. With reports indicating that Brees is set to retire at the end of the season, expect NOLA to make a deep run in his likely final campaign.
The full picture: Ready to put your analytics hat on? For the best data-driven predictions on who will win the Super Bowl, click here.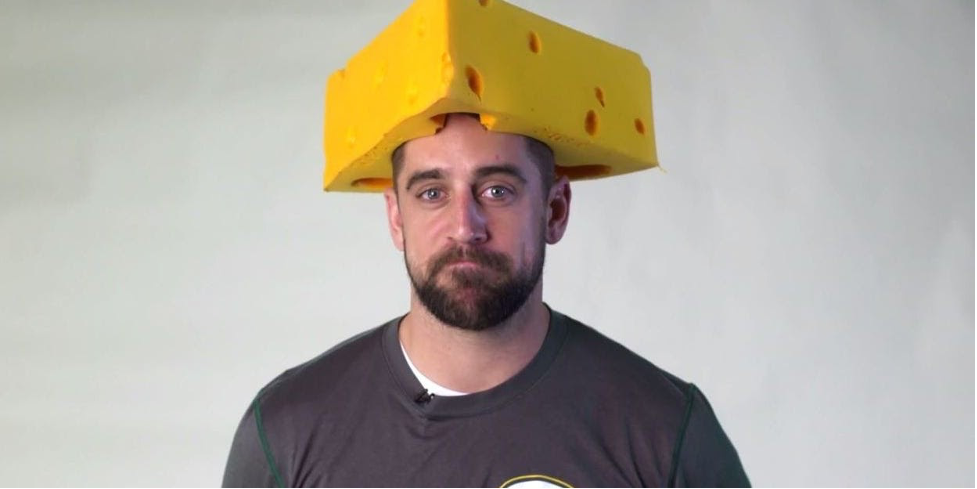 Players to Watch
Patrick Mahomes (Kansas City Chiefs): Last year's Super Bowl MVP Mahomes continued to dominate throughout the regular season. Just wait until Playoff Patrick shows up.
Tom Brady (Tampa Bay Buccaneers): Brady is in the hunt for his seventh (!!!) career Super Bowl, but it's his first time donning a new uniform. Can Tompa Tom get out of the first round?
Aaron Rodgers (Green Bay Packers): Talk about a Sweet Sixteen. Rodgers is in his 16th NFL season and it might just be his best one yet. Rodgers highlighted his MVP-worthy year by setting a Packers franchise single-season touchdowns (TDs) record with 48.
Other QBs to watch: Josh Allen (Buffalo Bills), Russell Wilson (Seattle Seahawks) and "Big" Ben Roethlisberger (Pittsburgh Steelers).
"King" Derrick Henry (Tennessee Titans): The King (that's right, move over LeBron) continues to reign supreme. Henry surpassed 2,000 regular-season rushing yards, making him just the eighth player in NFL history to do so. All hail.
Nick Chubb (Cleveland Browns): His 12 rushing TDs helped the Browns snap an 18-year playoff drought.
Alvin Kamara (New Orleans Saints): Kamara gave us all a gift with his record-tying Christmas Day performance, posting six rushing TDs in a single game. Sky's the limit for Kamara on the playoff stage.
Davante Adams (Packers): Adams leads the league with 18 receiving TDs...and somehow makes it look easy.
Stefon Diggs (Bills): This guy is feeling the love and showing out with his new squad. Expect him to keep up the momentum for the Bills Mafia.
Other WRs to watch: DK Metcalf (Seahawks), Terry McLaurin (Washington Football Team) and Chase Claypool (Steelers).
Travis Kelce (Kansas City): Kelce can truly do it all. He set a single-season record for a TE with 1,416 yards, he's Kansas City's Walter Payton Man of the Year nominee and his dancing skills are elite.
Rob Gronkowski (Bucs): Gronk has some impressive dance moves of his own and even came out of retirement to compete for another championship.
Other TEs to watch: Mark Andrews (Baltimore Ravens), Jared Cook (Saints) and Logan Thomas (Washington Football Team).
T.J. Watt (Linebacker, Steelers): This Watt is a key element in one of the best defenses in the league. Watt's brother Derek is a Steelers fullback, and they'll surely have their big bro Houston Texan J.J. Watt, one of the best defenders in the league, cheering them on. Family goals.
Myles Garrett (Defensive end, Browns): Garrett, the first pick in the 2017 NFL Draft, has been a bright spot in an otherwise dismal Browns defense. Expect Cleveland to rely heavily on Garrett and his signature stops.
The 2020 regular season marked the highest-scoring season in NFL history, but they say defense wins championships. Question is, which defense will step up to the challenge?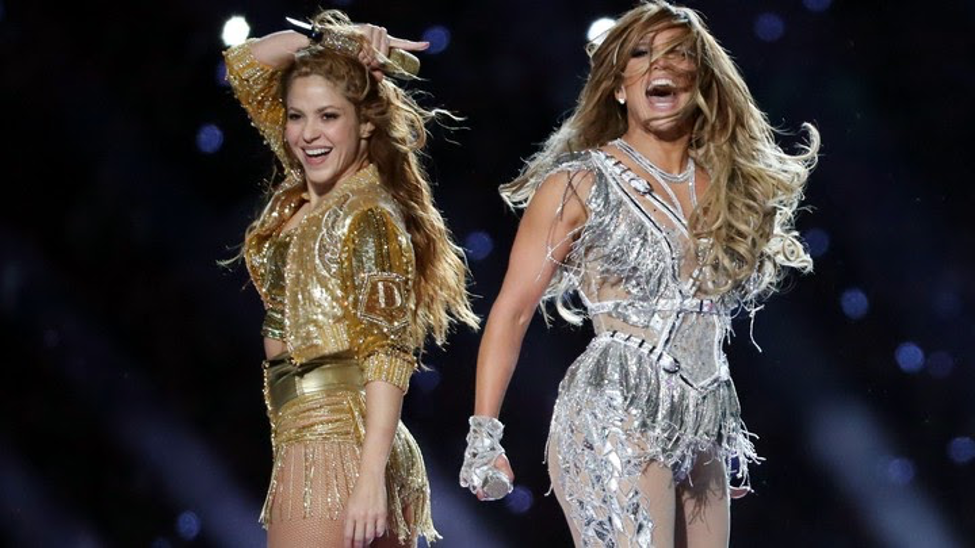 The Super Bowl
Save the date: Super Bowl LV (55) is taking place on February 7th in Tampa, Florida, at the home of the Buccaneers...which is pretty bad news for the Bucs as no host team has ever made it to the Super Bowl. We're not superstitious, but we are a little stitious.
The entertainment: The NFL is clearly hoping to entice a younger crowd, hiring TikTok royalty, The Weeknd, as their halftime performer. In addition to The Weeknd's incorrectly spelled name, the Canadian also has the tough task of performing during a pandemic, as it's expected that fans won't be able to engage with the on-field performance. The other tough task? Following J.Lo and Shakira.
THE GIST'S PICKS
📗 WHAT TO READ ABOUT:
Herstory. Six of eight female coaches will be on the sidelines these playoffs with one woman on each sideline when Washington hosts Tampa on Saturday at 8:15 p.m. ET. You know we love to see it.
🏈 WHAT TO PLAY:
We said it once and we'll say it again. With $2,000 on the line, you can't not play our GISTer-exclusive fantasy league. Sign up and make your picks before game time.*
❤️ WHAT TO FEEL NOSTALGIC ABOUT:
Remember Slime Time Live? Miss watching episodes of SpongeBob on Saturday mornings? The NFL has us covered. Tomorrow's Bears vs. Saints game will feature special kid-focused Nickelodeon-themed content.
🎥 WHAT TO WATCH:
We can't get enough of our vote for Comeback Player of the Year, WFT QB Alex Smith. There's plenty of on-field action to watch this weekend, but make some time for the documentary Project 11, which details Smith's return from a life-threatening leg injury. Incredible.