The GIST: The Tampa Bay Buccaneers and Kansas City Chiefs — along with 22,000 fans — are going to the Super Bowl.
January 25, 2021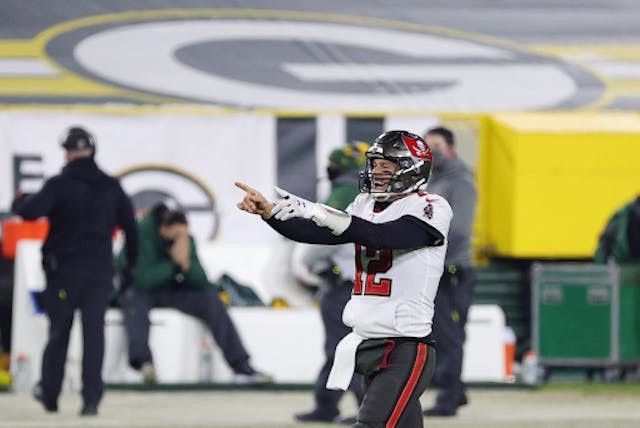 Source: Stacy Revere/Getty Images
NFC Champions: It was the best of times, it was the worst of times for quarterback (QB) Tom Brady yesterday. Sure, he threw three touchdowns (TDs) in the Bucs 31–26 win over the Green Bay Packers and he's going to the Super Bowl again...
But Brady also threw three straight interceptions to end the game on a bit of a sour note. Luckily for him, his defense picked up the slack to stave off the Packers' second half comeback.
AFC Champions: It was only the best of times for Kansas City's QB Patrick Mahomes, who threw three TDs and zero interceptions in KC's 38–24 win over the Buffalo Bills. If there was any worry of lingering effects from the concussion he suffered last week, Mahomes quickly put those fears to bed.
Like Brady, Mahomes had a solid defense to propel the win. Unlike Brady, Mahomes relied heavily on his tight end, Travis Kelce (pronounced KEL-SEE), who tied a record for most receptions in a conference championship with 13.
With the win, KC now has a chance to win back-to-back Super Bowls, the first team to do so since...sarcastic drum roll...Tom Brady's New England Patriots in 2005.
Up next: Before we can get to the biggest football game of the year, we have to first endure the most boring game of the year: next Sunday's Pro Bowl. Once described as "," the NFL's version of an All-Star game will take place this year, with the chosen rosters competing via Madden NFL 21. Fire up the PS5.