This week in college sports
January 08, 2021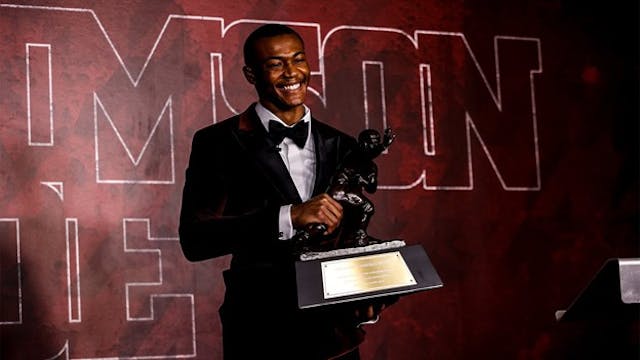 SOURCE: ALABAMA FOOTBALL/TWITTER
🏈Football: Alabama's DeVonta Smith was named the 2020 Heisman Trophy winner Tuesday night, making him the first wide receiver to take home the MVP award since 1991. How fitting for a topsy-turvy college football season. Smith gave an inspiring acceptance speech to close out the ceremony. Pass the tissues, please.
Meanwhile, Clemson QB Trevor Lawrence, the Heisman trophy runner-up, officially declared for the 2021 NFL Draft yesterday. Smith might have won the Heisman, but the NY Jets, er, Jacksonville Jaguars will also land a solid prize.
🏀WBB: COVID-19 sadly continues to impact college hoops. A positive test for No. 6 Baylor head coach Kim Mulkey canceled the highly anticipated matchup between her Bears and No. 3 UConn, originally scheduled for tonight. Wishing Coach Mulkey a speedy recovery!
Thankfully there is a top-ranked matchup still on the docket for this week: a Pac-12 showdown between No. 1 Stanford and No. 11 Oregon tomorrow at 2:30 p.m. ET. Nothing like some midday hoops to start your weekend off right.
🏀MBB: Men's hoops has also struggled with a long list of COVID-19 disruptions. No. 3 Villanova hasn't played a game since December 23rd and just paused activities again on Monday.
With all of these hiccups, it's no surprise the NCAA has opted to host the entire 2021 men's March Madness tournament in a bubble-ish environment in Indiana. We love to see it, but we're still (not so) patiently waiting on that women's bubble announcement...