NBA Conference Finals: Warriors top Mavs
May 27, 2022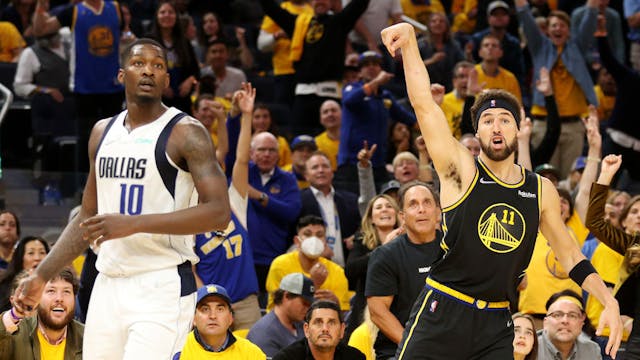 SOURCE: EZRA SHAW/GETTY IMAGES
The GIST: The NBA Finals matchup is halfway set after the No. 3 Golden State Warriors eliminated the No. 4 Dallas Mavericks last night. And the Warriors' opponent could be decided tonight. Jackson, Tyson, Jordan, Game 6.
Western Conference: Golden State secured their sixth Western Conference title in the last eight years (show offs) by thumping the Mavs 120–110 last night. Dallas' Luka Dončić (28 points) gave it his best all series long, but the Warriors' Klay Thompson (37 points) and Steph Curry (35 points) proved too much to handle. The Splash Brothers are officially back.
Eastern Conference: Though Wednesday's Game 5 started close, the No. 2 Boston Celtics ran away with a 93–80 victory over the No. 1 Miami Heat and earned a 3-2 series lead. Now Boston is one win away from its first NBA Finals appearance since 2010, and they can clinch it on their home court, tonight at 8:30 p.m. ET.
That said, you better believe Heat star Jimmy "Barista" Butler has a comeback brewin', especially after a dismal performance on Wednesday.