The GIST: It was hyped as an epic QB battle, pitting the GOAT against the Kid, and the 43-year-old showed, once again, that age is just a number. Hey Google, play "7 rings" by Ariana Grande.
February 08, 2021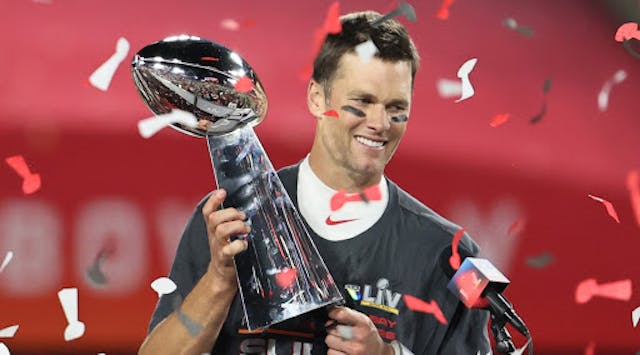 Source: CBS Sports/Twitter
Tom freakin' Brady: Brady entered the game on a tier all his own. He had already won more Super Bowls (six) than any other QB has even played in, and yesterday's seventh Super Bowl title only extended the gap between Tompa Tom and everybody else.
Brady yesterday too, most notably becoming the oldest QB to play in and win a Super Bowl. He threw for three TDs and no interceptions, earning his, you guessed it, record-extending fifth Super Bowl MVP award.
What about the Kid?: Yesterday's game didn't shape up to be the GOAT torch passing Kansas City fans had hoped for, but there's still plenty to look forward to with QB Patrick Mahomes at the helm. Mahomes is only in his fourth season and has already played in two Super Bowls.
Playoff Patrick — who came into the game — had a tough day yesterday, completing only 26 of his 49 pass attempts and failing to throw for a single TD.
But KC should take solace in Mahomes' 38 regular season TDs and just six interceptions. Future's looking real bright.
What's next: The 43-year-old Brady has one more year on his contract with Tampa Bay and is open to playing . And considering these teams aren't slated to play each other in the regular season for another four years, let's do this again next year, shall we?