NBA playoffs: Conference finals matchups locked in
May 16, 2022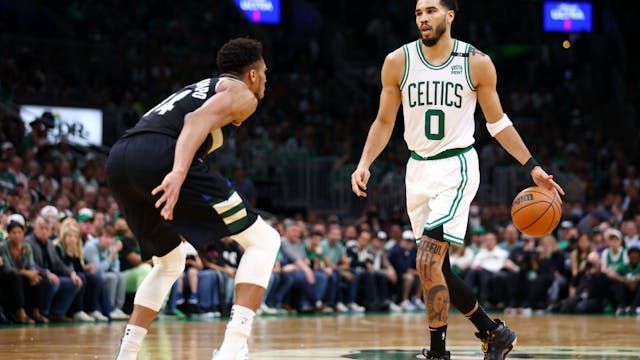 SOURCE: ADAM GLANZMAN/GETTY IMAGES
The GIST: Hydrate and take some deep breaths because, after yesterday's Game 7 doubleheader, the NBA Conference Finals matchups are locked in, with the Eastern battle tipping off tomorrow. No time to waste.
Game 7 recaps: Despite Giannis Antetokounmpo's (pronounced YAH-niss ah-det-oh-KOON-boh) best efforts (25 points, 20 rebounds), there'll be a new NBA champion after the Eastern Conference's No. 2 Boston Celtics eliminated the defending champ No. 3 Milwaukee Bucks 109–81, a lopsided ending to an otherwise evenly contested series.
And there'll also be a new Western Conference champion after the No. 4 Dallas Mavericks galloped to a stunning 123–90 victory over the top-seeded Phoenix Suns, who were title favorites after posting the league's best regular-season record. Wow.
Eastern Conference preview: Boston will face the No. 1 Miami Heat, starting tomorrow at 8:30 p.m. ET. Both squads boast superstars in Miami's Jimmy Butler and Boston's Jayson Tatum, and both are also contending with injuries — the Heat's Kyle Lowry (hamstring) is unlikely to play in Game 1 while the Celtics' Robert Williams III (knee) didn't play the last four games.
They're also equally matched when it comes to defense as the Heat have allowed the fewest points per game throughout the playoffs, a feat the Celtics achieved in the regular season. Yeah, this is going to be good.
Western Conference preview: The Mavericks will take on the No. 3 Golden State Warriors, who ousted the No. 2 Memphis Grizzlies on Friday. Luka Doncic–led Dallas won the regular season series 3-1, but that was before Golden State's Big Three — Steph Curry, Klay Thompson and Draymond Green — reunited after various injuries. The intrigue.