NBA Playoffs: On to the next one
April 27, 2022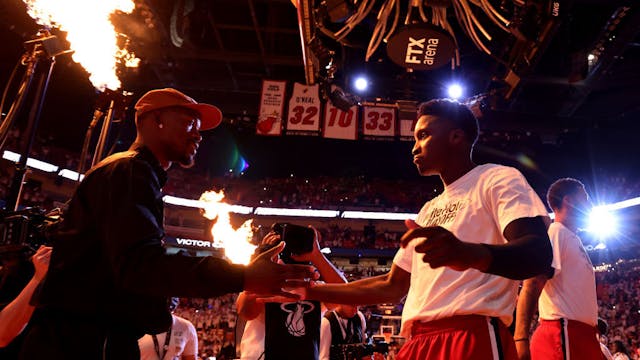 SOURCE: MICHAEL REAVES/GETTY IMAGES
The GIST: And just like that, the NBA's first conference semifinal spots have been booked. Here's who's in, who's out and which teams could be next.
Who's out: With Monday's 116–112 Game 4 loss to the Eastern Conference's No. 2 Boston Celtics, the No. 7 Brooklyn Nets were stunningly eliminated from the postseason. The first sweep of Kevin Durant's career leaves Brooklyn with some major questions this offseason. Some super team, huh?
Meanwhile, the No. 8 Atlanta Hawks couldn't withstand the top-seeded Miami Heat (even without Jimmy Butler and Kyle Lowry), losing Game 5 97–94 last night and seeing their postseason dreams extinguished in the process.
Who's on the brink: Two series could end tonight. The defending champion No. 3 Milwaukee Bucks (leading 3-1) look poised to tame the No. 6 Chicago Bulls at 7:30 p.m. ET.
And in the West, Steph Curry and the No. 3 Golden State Warriors (up 3-1) should take care of the No. 6 Denver Nuggets at 10 p.m. ET, unless reigning MVP Nikola Jokić has something to say about it.
Elsewhere: The No. 2 Memphis Grizzlies and No. 1 Phoenix Suns (both up 3-2) are one win away from the conference semis after defeating the No. 7 Minnesota Timberwolves and No. 8 New Orleans Pelicans, respectively, last night.
The No. 5 Toronto Raptors (down 3-2) have clawed their way back from a 3-0 deficit to force tomorrow's 7 p.m. ET home Game 6 vs. the No. 4 Philadelphia 76ers.
The No. 5 Utah Jazz (down 3-2) will look to defend their own home court and extend their series against the No. 4 Dallas Mavericks tomorrow at 10 p.m. ET.