New advancements arise in Brian Flores' lawsuit against the NFL
August 03, 2022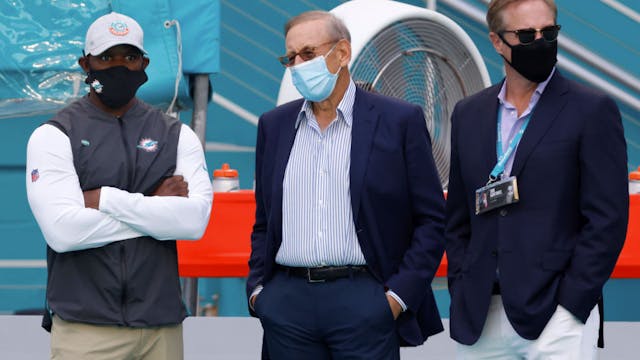 SOURCE: MICHAEL REAVES/GETTY IMAGES
The GIST: While the league contends with the ongoing Watson saga (more on that below), another bombshell dropped yesterday related to former Miami Dolphins head coach (HC) and current Pittsburgh Steelers assistant coach Brian Flores' brave February 2022 lawsuit. The hits keep coming…
The context: Earlier this year, Flores filed a league-shaking suit against the NFL and all 32 teams — citing three teams by name, including the Dolphins — alleging racism in hiring practices. One of just three black HCs in the league at the time, Flores was stunningly fired following a successful 9-8 2021 season, Miami's first back-to-back winning campaign since 2003.
But Flores' allegations went beyond the apparent discrimination. The suit included claims that Dolphins owner Stephen Ross offered the HC $100K per loss in 2019, incentivizing him to tank the season to help the team secure a higher draft pick.
Needless to say, that's a big no-no, and it prompted a league investigation into Ross' actions, which concluded with yesterday's announcement.
The punishment: In addition to stripping the Dolphins of their 2023 first-round pick, the NFL suspended Ross through October 17th and fined him $1.5M, but not for the aforementioned allegations. The penalties instead stem from Miami's violations of the league's anti-tampering policy, with one breach reportedly involving Tampa Bay Buccaneers QB Tom Brady.
And while Commissioner Roger Goodell called the tampering findings "unprecedented," the investigation did not find evidence to support Flores' allegations of tanking. Yeah, it really is a joke.
What's next: Despite Ross' boneheaded statement that the investigation's conclusion absolves him of all allegations, Flores' lawsuit is still pending, and it seems it will end favorably for him considering the confirmation of his tampering claims. Fingers crossed.