February 13, 2020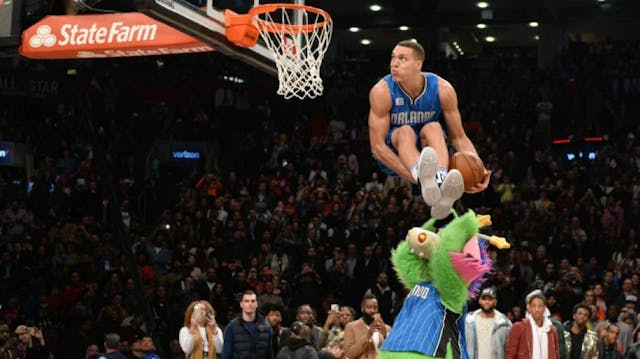 The GIST: It's NBA All-Star Weekend, baby! Cue Smash Mouth.
What's the NBA All-Star Weekend all about?: Every February, the NBA takes a break to showcase the league's biggest stars in a skills competition on Saturday and main event game on Sunday. The All-Star Weekend doesn't really mean anything, it's just a for fun event in the middle of the season before the big postseason push.
But unlike other men's professional leagues, these festivities are a BFD and a lot of fun to watch.
Cool! How is it set up?: This year's All-Star Weekend is being hosted in Chicago for the first time in 32 years. The weekend kicks off on Friday with the celebrity game — featuring a mixture of stars, including perfect 10 and viral gymnast sensation Katelyn Ohashi — and a next generation game called "Rising Stars."
Tell me about the dunk contest: Keep your eye on a couple of dunkers who are coming for the 2020 crown with a vengeance: LA Laker and 2008's champion Dwight "Superman" Howard wants to reclaim his throne, while Orlando Magic's Aaron Gordon wants redemption after being robbed losing despite a stunning performance in 2016.
And on Sunday?: It's time for the game. The teams are captained by the top fan-voted stars from each conference: Laker LeBron James in the West and Milwaukee Buck Giannis Antetokounmpo (pronounced YONNIS ANDEDO-KOONPO) in the East. In a good ol' fashioned schoolyard pick (sorry if this brings up bad memories), LeBron and Giannis each drafted their own squads who will battle it out for bragging rights and local charities.
Any Canadians to watch out for?: Two Toronto Raptors have been selected as All-Stars: six-time attendee Kyle Lowry and first-time All-Star and starter Pascal "Spicy P" Siakam. Fresh off last night's loss that ended their franchise-record 15-game win streak, you better believe these guys will be using the weekend to regain some swagger.
And get this: four Canadians will play in the Rising Stars matchup, marking the first time ever that Team World will have four players from the same country. #WETHENORTH, indeed.
Anything else?: This weekend will largely be a tribute to the late 18-time All-Star Kobe Bryant who, along with his 13-year-old daughter Gianna and seven others, died in a tragic helicopter accident in January. In honor of Kobe and Gianna, No. 24 (one of Kobe's numbers) will be worn by Team Giannis while Team LeBron will wear No. 2 in honor of GiGi. Every player will also wear a patch with nine stars in memory of all the victims.