The GIST: With a 31–9 win over the reigning champion Kansas City Chiefs, the underdog Tampa Bay Buccaneers are your Super Bowl champions...and of course we have quarterback (QB) Tom Brady to blame/thank.
February 08, 2021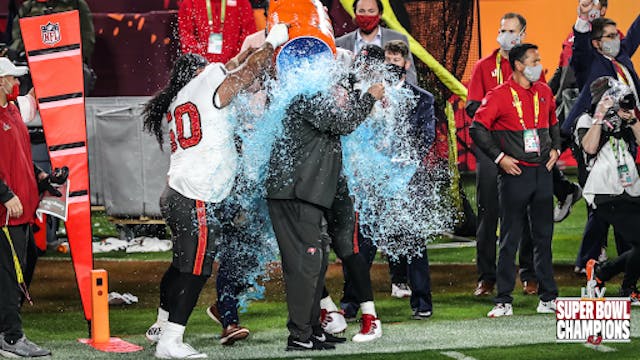 Source: Tampa Bay Buccaneers/Twitter
The first half: The game got off to a slow start, going almost a full quarter without scoring a touchdown (TD). But in the most Tom Brady of ways, he jump-started the Bucs' dominating offensive performance with a pair of TDs caught by tight end Rob Gronkowski.
Gronk came out of retirement to reunite with his bestie Tom in Tampa. And after spending eight seasons together in New England, their first TD of the game set a record for most playoff TDs by a QB-receiver combo. A match made in football heaven.
While the Bucs ran up the score, Kansas City wracked up penalties. Eight flags for 95 yards (and not all of them warranted, if we're being honest) helped the Bucs end the first half with a 21–6 lead.
The second half: Then the , and it went from bad to worse for Kansas City. QB Patrick Mahomes, who last year was named Super Bowl MVP, was picked off twice in the second half and didn't throw a single TD. While Brady continued to lead, Mahomes (and his offensive line) floundered. It actually .
All in all, this game did not live up to the hype, but it was a masterclass from not only Brady, but the entire Bucs team, who became the first squad in NFL history to win the Super Bowl on home turf. They say defense wins championships, and they're not wrong.