NCAA Men's Sweet Sixteen Recap
March 29, 2021
The GIST: After a record number of upsets in the first two rounds, the men's Sweet Sixteen went mostly as expected, with all of the remaining No. 1 seeds advancing to tonight and tomorrow's Elite Eight action. That said, the tourney's Cinderella team found their fairy godmother, and turned the tables on the beloved Sister Jean.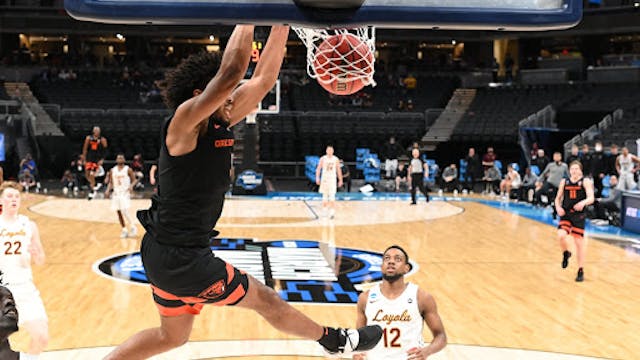 Source: Oregon State MBB/Twitter
Tonight's games: No. 12 Oregon State continued their underdog run, defeating No. 8 Loyola Chicago on Saturday to advance to their first Elite Eight since 1982. The Cinderella story Beavers will need all the magic they can get when they take on No. 2 Houston and their stifling defense tonight at 7:15 p.m. ET.
Tomorrow's games: No. 1 Gonzaga extended their undefeated campaign with ease, handily defeating No. 5 Creighton 83–65 yesterday. Gonzaga will face No. 6 USC, fresh off a hard fought victory over No. 7 Oregon. We do love an underdog, but our money's on the 'Zags in this one. How can you bet against ?
Meanwhile, No. 1 Michigan secured another W for the top seeds, dominating a physical 76–58 battle with No. 4 Florida State yesterday. Michigan will face surging No. 11 UCLA, who pulled off another upset by defeating No. 2 Alabama 88–78 in overtime yesterday.
The UCLA Bruins are just the second team to advance to the Elite Eight after competing in the "" play-in round. More like Bru-Win, right?