NBA playoffs: Getting buckets
April 20, 2022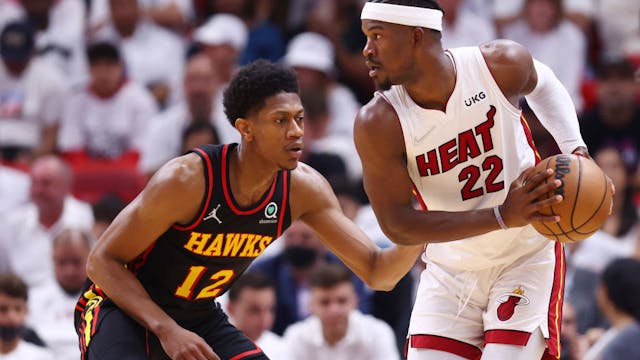 SOURCE: MICHAEL REAVES/GETTY IMAGES
The GIST: With daily playoff action and first-round series just heating up, it's a hell of a time to be a hoops fan. Ball truly is life.
Last night's games: In Tuesday's lone Eastern Conference matchup, the No. 1 Miami Heat continued to dominate the No. 8 Atlanta Hawks, notching a 115–105 win behind 45 points from Jimmy Butler and extending their series lead to 2-0.
Over in the West, Ja Morant and the No. 2 Memphis Grizzlies topped the No. 7 Minnesota Timberwolves 124–96, evening the series at one game apiece and earning a much-needed home win before the series moves to Minny for tomorrow's 7:30 p.m. ET Game 3.
And the No. 8 New Orleans Pelicans bounced back from their Game 1 loss and stole a win on the road, topping the No. 1 Phoenix Suns 125–114. Sorry to this man.
Tonight's games: Prepare yourself for a hotly contested Eastern Conference tripleheader. First, the No. 2 Boston Celtics (1-0 lead) host the No. 7 Brooklyn Nets at 7 p.m. ET. Game 1 featured a buzzer beater and double birds. Who knows what could be next?
Then the No. 4 Philadelphia 76ers (2-0 lead) and No. 5 Toronto Raptors head north for an 8 p.m. ET Game 3. Yes, Philly's thumped Toronto so far, but they'll be without key defender Matisse Thybulle due to Canada's vaccine restrictions. Shot, chaser.
And it all wraps up with a 9:30 p.m. ET Game 2 between the No. 3 defending champion Milwaukee Bucks (1-0 lead) and No. 6 Chicago Bulls. If Chicago star DeMar DeRozan can find his groove, this one could soon be all tied up.
​Elsewhere: The Western Conference No. 3 Golden State Warriors lead the No. 6 Denver Nuggets 2-0, and despite the absence of Dallas superstar Luka Doncic, the No. 4 Dallas Mavericks and No. 5 Utah Jazz are tied at one game each.