NBA postseason: Nothing but Net(s)
April 13, 2022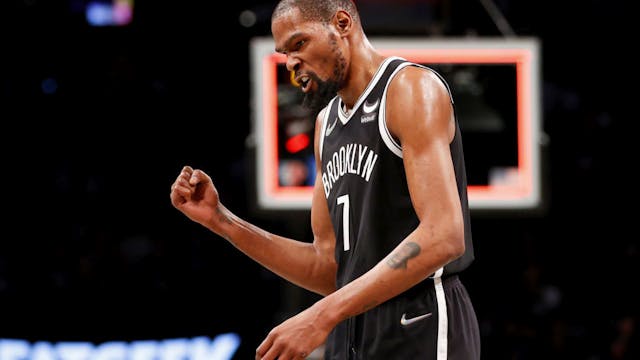 SARAH STIER/GETTY IMAGES
The GIST: Forget Taco Tuesday, yesterday's Tip-off Tuesday was the perfect appetizer of play-in tournament games before another 7 p.m. and 9:30 p.m. ET doubleheader tonight (ESPN, TSN).
Last night's games: As predicted in yesterday's postseason preview episode of The GIST of It, the No. 7 seed Brooklyn Nets dispatched of the No. 8 Cleveland Cavaliers 115–108 to lock in the No. 7 spot in the Eastern Conference on a terrifying day in the borough. Kyrie Irving led all scorers with 34 points while Kevin Durant notched a double-double. Because of course.
Then the No. 7 Minnesota Timberwolves defeated the No. 8 LA Clippers 109–104, clinching Minnesota's first playoff appearance since 2018. As for LA, they'll have one more shot for Paul "Playoff P" George to live up to his self-proclaimed nickname.
What's next: ICYMI: tonight's matchups between each conference's No. 9 and No. 10 seeds are single-elimination, adding an extra layer of spice. The winner advances to face Cleveland or LA and the loser goes home.
First, the Eastern Conference No. 9 Trae Young–led Atlanta Hawks face 2021 Rookie of the Year LaMelo Ball and the No. 10 Charlotte Hornets in a battle between two of the league's youngest and brightest stars.
Then it's time for the Western Conference tilt between the still Zion Williamson–less No. 9 New Orleans Pelicans and the No. 10 San Antonio Spurs. Order up!