Brittney Griner sentenced to nine years in Russian prison
August 05, 2022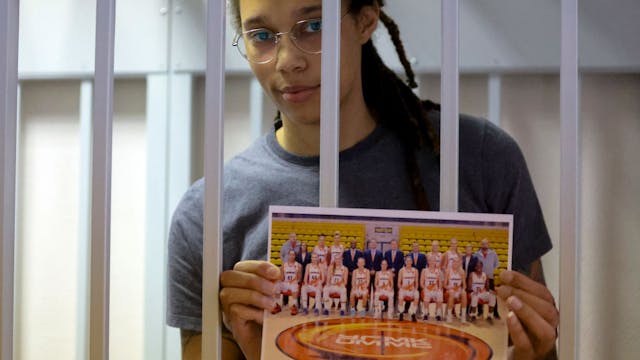 SOURCE: EVGENIA NOVOZHENINA/POOL/AFP VIA GETTY IMAGES
The GIST: Six months after her arrest, wrongfully detained Phoenix Mercury star Brittney Griner (BG) was found guilty of bringing drugs into Russia and sentenced to nine years in a Russian penal colony yesterday. Gutting, but a crucial step in the efforts to bring her home.
The context: BG's sentencing, which also included a fine of $1M rubles (~$16.4K US), was widely expected as Russia wraps up their largely performative legal proceedings. Russia publicly stated that they would not discuss a prisoner swap (such as the one proposed by President Biden last week) until after BG's trial was over.
The response: Biden deemed the sentencing "unacceptable" and called on Russia to release her immediately. Meanwhile, the basketball world continues to rally around BG, with countless athletes tweeting their sympathies and sharing words of support.
Noticeably quiet? Former Baylor and now LSU women's basketball coach Kim Mulkey, who coached Griner for four years. The silence is deafening, but not surprising.
What's next: BG's lawyers plan to appeal the decision, but attention now turns to the aforementioned reported prisoner swap to exchange Griner and American Paul Whelan for Russian arms dealer Viktor Bout. It's a much-needed glimmer of hope in an unimaginable reality. Free BG.