NFL blockbuster trades
March 09, 2022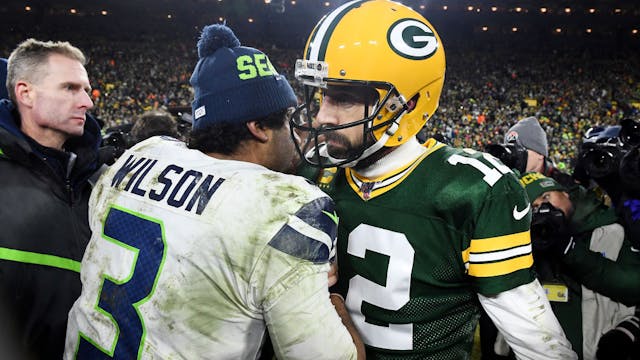 STACY REVERE/GETTY IMAGES
The GIST: It may be the offseason, but there's no rest for NFL fans, with the future of not one, but two superstar quarterbacks (QBs) coming into focus yesterday.
Russell Wilson: Ciara's husband is on the move. The Seattle Seahawks and Denver Broncos have reportedly agreed to a blockbuster trade that will send Super Bowl–winning QB Wilson to Denver in exchange for QB Drew Lock, tight end Noah Fant, defensive lineman Shelby Harris and multiple draft picks.
While the deal can't officially be finalized until the new season begins next week, Russ has reportedly signed his no-trade clause, ending his 10-year tenure in Seattle. There's a new sheriff chef in town, Broncos Nation.
Aaron Rodgers: Meanwhile, the longtime Green Bay Packers QB won't be, ahem, shooting his shot on the trade market. The reigning league MVP announced yesterday that he's staying with the franchise that drafted him for at least another year.
From publicly criticizing the front office to boycotting training camp and stoking retirement rumors, this news is another surprising twist in the years-long rift between Rodgers and the Pack. A "beautiful mystery" indeed.
What's next: This QB news kicks off what could be a flurry of NFL action in the weeks ahead. Dates to circle: free agency begins March 16th and the NFL draft kicks off on April 28th. Can't wait.