🎿
🥌
💨
⛸️
🏅
Olympics Day 15 Recap: Team Canada
February 18, 2022
SPORT CANADA/TWITTER
🎿 Freestyle skiing: Canada was seeing double in last night's women's freeski halfpipe final, with defending Olympic champion Cassie Sharpe and Rachael Karker claiming silver and bronze, respectively, behind none other than 18-year-old phenom Eileen Gu, who nabbed her third medal of the Games.
🥌 Curling: Adding some hardware to his gold medal from the 2006 (!!!) Turin Olympics, the skip from St. John's, Newfoundland, knocked out Team USA 8–5 for the bronze early this morning. Truly the best ever.
💨 Speed skating: After missing the men's 500m podium by just 0.03 seconds, Quebec's Laurent Dubreuil glided to his first Olympic medal, a silver in the 1,000m this morning. Don't sleep on this "sk8er boi."
⛸ Figure skating: Though this morning's pairs short program was, ahem, not great for both Kirsten Moore-Towers & Michael Marinaro and Vanessa James & Eric Radford, both teams have advanced to tomorrow's 6 a.m. ET free program where they'll have a chance to pick up their scores.
⛸️
🎿
🥌
Olympics Day 14 Recap: Team Canada
February 17, 2022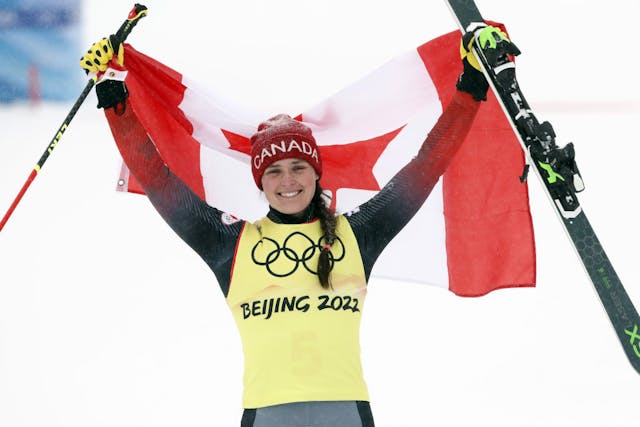 CHRISTOPHE PALLOT/AGENCE ZOOM/GETTY IMAGES
⛸ Figure skating: In a shocking turn of events, 15-year-old ROC figure skater Kamila Valieva placed fourth in this morning's women's singles free skate, meaning medals were awarded while the ongoing doping investigation surrounding Valieva continues.
🎿 Freestyle skiing: Marielle Thompson won silver in this morning's women's ski cross, gaining Canada's 20th medal of the Games. Her second career Olympic medal (the first a gold in Sochi 2014), Thompson battled back from a second ACL tear to regain a spot on the podium. A true fighter.
🥌 Curling: Team Gushue will face the U.S. in tomorrow's 1:05 a.m. ET bronze medal game, after falling 5–3 to Sweden in the semifinals. Will Canada's first gold medalist in men's curling be able to land another podium finish?
Meanwhile, despite an impressive 10–4 win over Denmark this morning, Team Jennifer Jones didn't qualify for the playoffs, as the tie-breakers landed her team in fifth overall. You win some, you lose some.