🎓

NCAA: Loosening up

May 02, 2022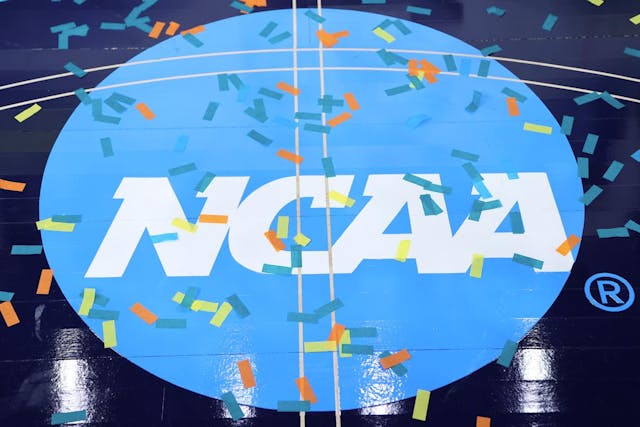 C. MORGAN ENGEL/NCAA PHOTOS VIA GETTY IMAGES
The GIST: The NCAA is letting another type of business in on the sponsorship fun — data distribution companies. The body's rules committee voted last week to allow schools and conferences to strike deals with data distributors, cracking open the door for collaborations with sports betting companies in the process.
The context: College sports' governing body clarified the assumed ban on data companies upon request from the Mid-American Conference (MAC). The NCAA manual forbade providing information to those associated with sports betting — not data companies.
The details: The rule change means all parties — schools, conferences and data distributors — are now permitted to sell data to sportsbooks. The update comes with one caveat — any stats sold to sports betting companies must also be available to the public.
The NCAA's decision doesn't really impact betting on college sports. The pastime has been around the block, but is quickly picking up speed — particularly in the women's space this year.
Zooming out: The recent name, image and likeness (NIL) rule change proved just how lucrative college sports can be, and this update provides even more opportunities for schools and conferences to work with commercial partners. It also allows the NCAA to cozy up to the other shiny (relatively) new thing in sports — betting companies.
That said, this might be as close as the NCAA can get to sports betting. Many brands have raised legitimate concerns about responsible wagering in college sports.
🎓

NIL: NBC Sports wants in

April 22, 2022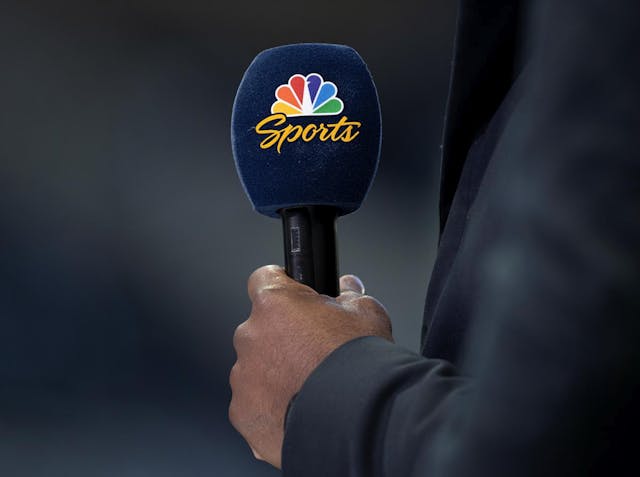 JOE PRIOR/VISIONHAUS VIA GETTY IMAGES
The GIST: Another day, another name, image and likeness (NIL) platform. In yet another example of brands finding their footing in the rapidly rising college sports marketplace, NBC Sports became the latest to launch an NIL space — NBC Sports Athlete Direct — on Tuesday.
The details: Like other NIL platforms, NBC Sports Athlete Direct will connect student-athletes with brands. With the support of personal finance content created by NBC's business and financial vertical, CNBC, the platform also aims to educate athletes in both NIL best practices and financial wellness.
The context: Naturally, NBC Sports is launching at institutions where the company already has well-established connections. The broadcaster has national rights to several Notre Dame properties, and its parent company, Comcast, is headquartered in Temple's backyard — Philadelphia.
Some women's basketball properties also fall under the NBC Sports umbrella. Nationally, it holds the rights to the Atlantic 10 tournament, and broadcasts games locally in Philly and Chicago. Windy City properties include DI WBB programs DePaul and UNI.
Zooming out: NBC Sports might be the largest media company to carve a spot in the NIL landscape, but it isn't the first. Boardroom recently signed a partnershipwith St. John's, and Just Women's Sports launched a multi-layered program for female collegiate athletes. The newness of the space has created room for non-traditional partners to cash in.
Launching a platform instead of investing in the athletes directly separates NBC Sports from the other media organizations. It adds to the growing trend of increasing athletes' access to brands, particularly in college sports.
The headlining program for NBC Sports Athlete Direct might be the broadcaster's primary college connection — Notre Dame football. Access for all athletes, though, gives more women opportunities in a space proving particularly lucrative for them.
🏀
🎓
March Madness: Underdogs on top
March 21, 2022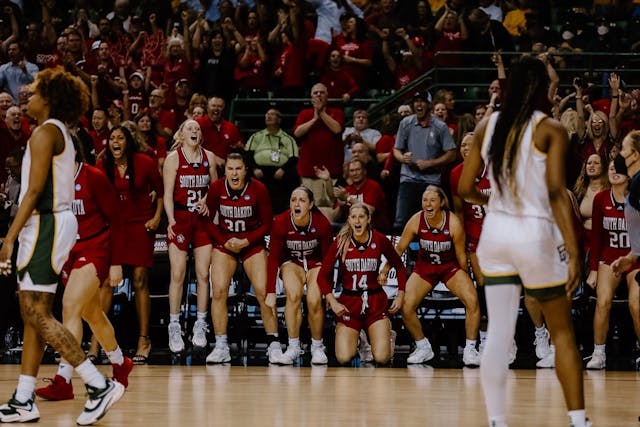 SOUTH DAKOTA WOMEN'S BASKETBALL/TWITTER
The GIST: Heart rate still sky-high after an upset-filled weekend of men's and women's March Madness? Same. Deep breaths — here's who's through, who's out and some of the top moments along the way.
Men's: My Super The Sweet 16 party — featuring No. 15 Saint Peter's (just the third-ever 15-seed to advance beyond the second round) for the first time — is set. Meanwhile, No. 1 Baylor was the first top-seed to fall, as No. 8 UNC eliminated the defending champs in overtime on Saturday.
No. 11 Michigan, No. 11 Iowa State and No. 10 Miami rounded out the weekend of stunners, eliminating No. 3 Tennessee, No. 3 Wisconsin and No. 2 Auburn, respectively. How sweet it is.
Women's: This weekend, No. 5 Notre Dame's Olivia Miles became the first freshman to record a March Madness triple-double, No. 1 Stanford's Fran Belibi threw down the third dunk in women's tourney history and No. 10 Creighton's Lauren Jensen scored the game-winner against her old team to stunningly eliminate the Caitlin Clark–led No. 2 Iowa.
But the biggest takeaway? The nine upsets (including No. 10 South Dakota advancing to their first-ever Sweet 16 by eliminating No. 2 Baylor) through the first two rounds.
Women's basketball is defying the rankings, signifying a growth in parity and competitiveness in the sport. Watch the madness continue with eight second-round games tipping off today ahead of Friday's Sweet 16.
🎓

NIL: Life, deals and taxes

March 21, 2022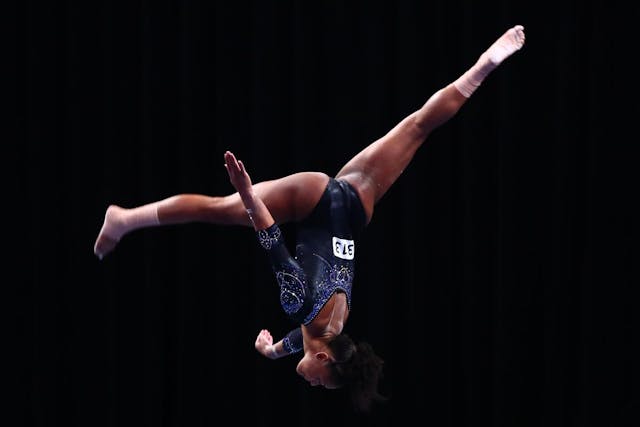 C. MORGAN ENGEL/NCAA PHOTOS VIA GETTY IMAGES
The GIST: Another day, another name, image and likeness (NIL) deal. Tax prep company H&R Block endorsed six more student athletes on Thursday — including Florida gymnast Trinity Thomas and Georgia softball player Jaiden Fields — as part of its "A Fair Shot" initiative to invest $1 million in female college athletes.
The details: Outside of the traditional scope of the partnership, the endorsement comes with perks — H&R Block will provide the athletes free tax prep and the athletes will work with H&R Block on initiatives that support girls and young women in sports.
The new deals come after the company endorsed two basketball players — Iowa's Caitlin Clark (who, along with her fellow Hawkeyes, was shockingly knocked out of March Madness yesterday) and South Carolina's Zia Cooke — at the beginning of the month.
Zooming out: H&R Block's strategy is a classic example of values-based marketing, an approach that's reaping rewards by signing top talent. The aforementioned Thomas said she likes to partner with companies that share her values, demonstrating that athletes won't team up with just anyone to make a buck.
Thomas echoes the stance of millennials and Gen Zs, who tend to prioritize social responsibility when making major decisions. Centering ethics and values is becoming key for brands when courting endorsements and customers.
🏀
🎓
NCAA: Causing a (b)racket
March 18, 2022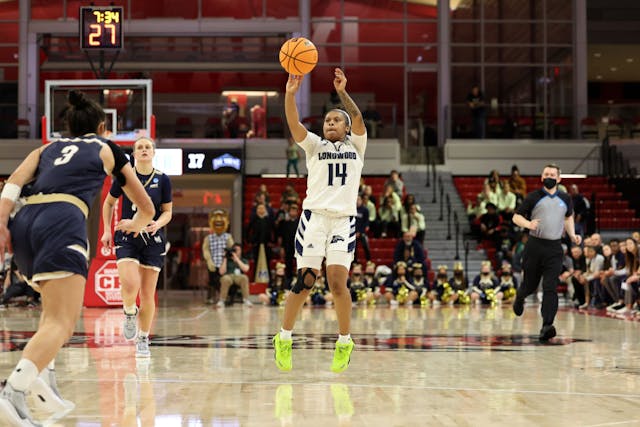 SCOTT TAETSCH/NCAA PHOTOS VIA GETTY IMAGES
The GIST: Sixteen single-elimination men's games yesterday, 16 women's and men's tilts today and a packed weekend slate to follow? What dreams are made of.
Men's: Yesterday's opening day brought a plethora of shocking upsets, including No. 15 Saint Peters taking down No. 2 Kentucky (and busting many brackets in the process), No. 12 Richmond dispatching No. 5 Iowa 67–63 and No. 12 New Mexico State beating No. 5 UConn 70–63. Hey Google, play Drake.
And to keep the music going, we'll be on upset alert for today's 4:15 p.m. ET battle between No. 6 Alabama and No. 11 Notre Dame, who are fresh off a thrilling "First Four" win. Will the luck of the Irish continue?
Women's: Meanwhile, after No. 16 Longwood and No. 11 Missouri State won last night's "First Four" tilts, the women's tourney begins in earnest today at 11:30 a.m. ET. ICYMI: Yesterday's special edition has all the deets before the fun tips off (and our GIST-exclusive women's bracket challenge closes). Game time.