WCWS Preview
June 01, 2022
🥎 How it works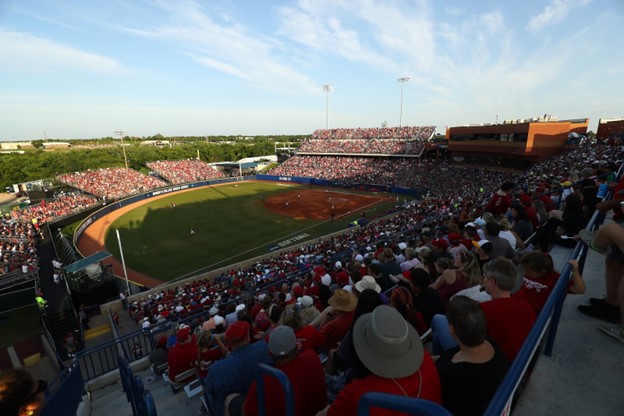 SOURCE: NCAA SOFTBALL/TWITTER
The road to Oklahoma City began last month with 64 squads competing in the national tournament. Those teams competed in 16 double-elimination regional tournaments, with winners advancing to last week's Super Regionals, consisting of eight head-to-head three-game series. Winners clinched their spot in the eight-team WCWS bracket.
Those eight squads will be part of history, as this year marks the first (potentially) nine-day edition of the tourney, up from seven in previous years. Why the change? Public outrage, of course.
Last year's event saw teams forced to play in the wee hours of the morning due to weather delays and the event's scheduling constraints, only further straining already exhausted athletes.
So this year, play will thankfully be spread out over nine days, giving players well-deserved rest and us a few more days of action to watch. TYSM.
As for the WCWS structure itself, the eight teams are split into two double-elimination brackets. Winners of those brackets advance to next week's best-of-three series to determine a national champion. Nothing soft about it.
💪 The ranked teams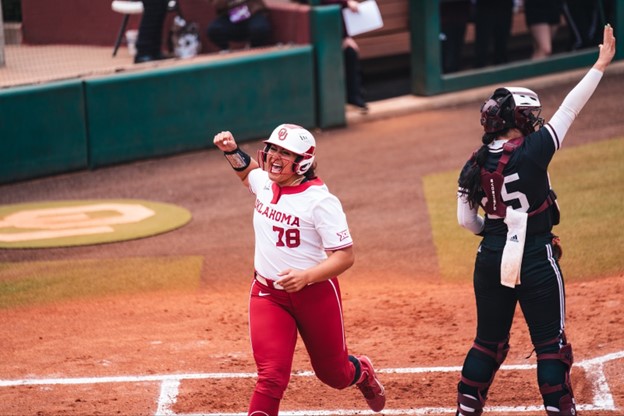 SOURCE: OKLAHOMA SOFTBALL/TWITTER
No. 1 Oklahoma: Just how dominant have the defending champs been? Let us count the ways. Highlighted by newly-crowned NCAA home run queen Jocelyn Alo, the Sooners outscored their opponents by an incredible 500–47 margin during the regular season, leading the country in batting average, ERA (how many runs a pitcher gives up on average over the course of a full game) and scoring per game along the way.
And they got it done in the postseason too, notably routing Texas A&M 20–0 in the Regionals, the largest win in NCAA Tournament history. No wonder Oklahoma's the favorite to go back-to-back.
No. 5 UCLA: The Bruins are no strangers to OKC — this will be their record 31st WCWS appearance. On the mound, UCLA boasts a formidable one-two punch in junior Megan Faraimo and senior Holly Azevedo. At the plate, keep an eye out for catcher Delanie Wisz and sophomore star Maya Brady, aka the better Brady.
No. 7 Oklahoma State: The Cowgirls are back in the WCWS for a third straight season, still in search of their first title. And if defense really does win championships, Oklahoma State has a shot — they boast a 1.84 ERA thanks to a trio of standout pitchers in Kelly Maxwell, Miranda Elish and Morgan Day.
No. 9 Northwestern: Northwestern is back in the WCWS for the first time since 2007, and they made it there in stunning fashion, rallying from a five-run deficit in the Super Regionals to oust No. 8 Arizona State.
On defense, the Wildcats will lean heavily on senior ace Danielle Williams and her 1.86 ERA. On offense, it's all about Big Ten Player of the Year Rachel Lewis, who has blasted a team-high 22 home runs.
No. 14 Florida: Perennial contenders, Florida's making their triumphant return to OKC. And the Gators will be riding the high off their massive Super Regional upset over No. 3 Virginia Tech, punctuated by Florida's run-rule victory to punch their ticket to the WCWS. Chomp chomp.
🐶 The underdogs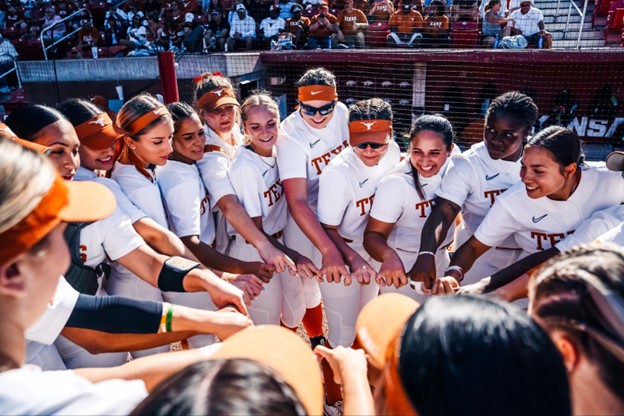 SOURCE: TEXAS SOFTBALL/TWITTER
Texas: The Longhorns ran the gauntlet this postseason, knocking off No. 13 Washington and No. 4 Arkansas on the road to advance to their sixth WCWS and first since 2013. The player to watch? Senior second baseman Janae Jefferson, who's batting a jaw-dropping .522 throughout the playoffs. Clutch.
Arizona: With eight national titles to their name, it feels strange to call the Wildcats underdogs, but this team has beaten the odds all season long, overcoming an 0-8 start in conference play to advance to softball's biggest stage. If sophomore Allie Skaggs can stay hot at the plate, Arizona can certainly keep their Cinderella Story going. What team?!
Oregon State: Perhaps the biggest surprise of the tourney has been Oregon State, who dispatched No. 11 Tennessee in the Regionals and Stanford in the Supers to advance to their second WCWS.
Two-way player Mariah Mazon is the standout star for the Beavers. She's posted a 2.05 ERA in the circle while leading the squad with 40 RBIs. Get you a player who can do both it all.
📺 How to tune in
SOURCE: NCAA SOFTBALL/TWITTER
The fun begins with tomorrow's quadruple header, kicking off with the 12 p.m. ET contest between No. 5 UCLA and Texas.
The entire tourney will be broadcast across ESPN networks, including Saturday's 3 p.m. ET winner's bracket contest, which will be the first-ever WCWS game to air nationally on ABC. Looks like someone received the memo about women's sports.