September 19, 2021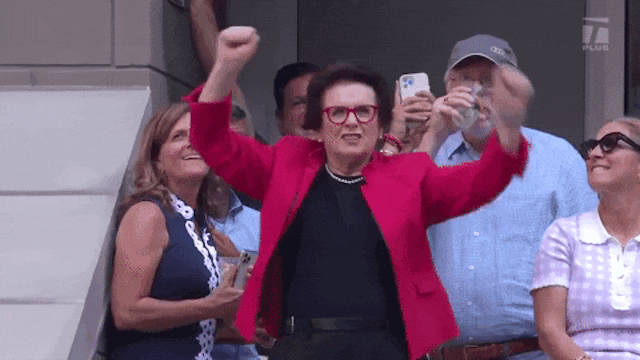 SOURCE: TENNIS CHANNEL/GIPHY
HELLO AND HAPPY SUNDAY!
Tomorrow marks the 48th anniversary of the "Battle of the Sexes," a tennis match featuring the legendary Billie Jean King (BJK) vs. former men's world No. 1 (and self-described male chauvinist) Bobby Riggs.
So today we're diving into the history of the match, the fight for gender equality in tennis and the state of the women's game today. Game, set, let's get to it.
QUOTE OF THE DAY
I'm taking this match very seriously. I love to win. I welcome the responsibility and the pressure. Bobby had better be ready.
— Billie Jean King, ahead of the Battle of the Sexes match. Spoiler alert: Bobby wasn't ready.
🔥 The trailblazers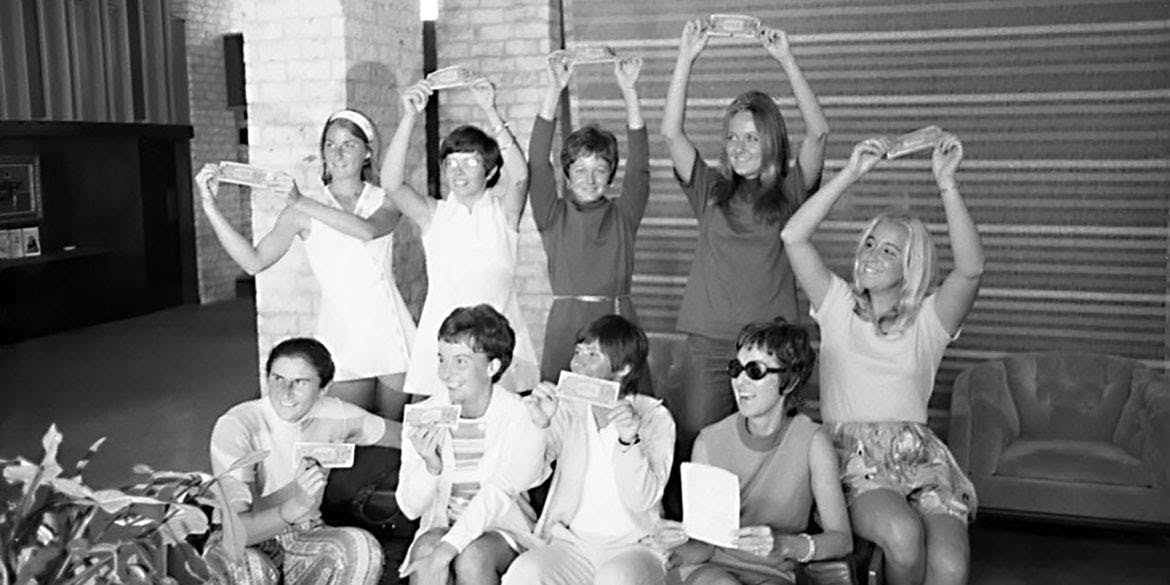 Three years before she battled Riggs, BJK led a group of nine female tennis players — the Original Nine — in a stand that led to the creation of the tennis circuit we know today.
Frustrated with unequal prize money and unequal chances to compete, King, along with American tennis pros Rosie Casals and Nancy Richey, planned to boycott a tournament held after the 1970 US Open.
Per the advice of former player and founder of World Tennis Magazine, Gladys Heldman, the women instead created a tour of their own and staged a tournament in Texas.
The United States Lawn Tennis Association (USLTA, now USTA)threatened to suspend any player who competed in the tournament, but those threats didn't scare the Original Nine, which consisted of King, Casals, Richey, Valerie Ziegenfuss, Judy Dalton, Kerry Melville Reid, Peaches Bartkowicz and Kristy Pigeon.
The nine women signed symbolic one-dollar professional contracts to compete in the tourney, joining what would later become the "Virginia Slims Circuit."
In 1973, the Virginia Slims Circuit evolved into the Women's Tennis Association (WTA) we know today. The rest is history.
💪 The Battle of the Sexes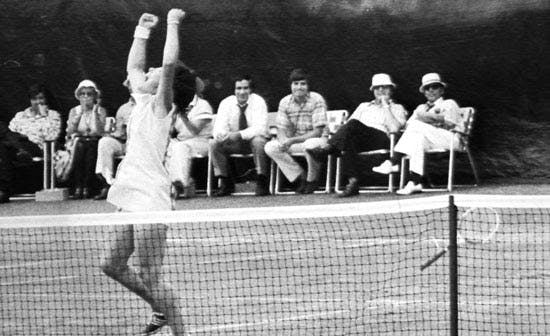 The aforementioned Bobby Riggs had his tennis heyday in the 1930s and '40s, rising to amateur World No. 1 in 1939. But in the 1970s, he decided he needed some attention. A shameless hustler, Riggs claimed that women's tennis players were so inferior, he could beat the game's best while in his mid-50s.
Riggs first faced Grand Slam singles record holder Margaret Court (who, for the record, we're not fans of) and won in straight sets. While BJK had previously rejected Riggs' request to play, she now knew what she had to do.
The "Battle of the Sexes" was played in the Houston, Texas Astrodome in front of 30,000 people, along with approximately 90 million across the globe tuning in on TV. BJK defeated Riggs in dominant fashion — 6-4, 6-3, 6-3 — to walk away with the $100k prize pot. Mic drop.
But her win wasn't just about a paycheck. BJK dismissed Riggs' sexist assertions, inspiring women to stand up for equal pay and equal treatment, within and beyond the sports world. Bow down.
💰 The fight for equal pay
BJK's iconic victory inspired countless women to fight for equality in their own lives, a fight that continues to this day. It wasn't until 2007 that all four of tennis's Grand Slams awarded equal prize money to women and men.
US Open: In 1973, after threats of a boycott by BJK, the US Open became the first Grand Slam to award equal prize money, with Margaret Court and John Newcombe both earning $25k that year.
Australian Open: While women actually earned more than men (sounds good to us!) at the 1987 and 1988 Australian Opens, pay disparity with men out-earning women was status quo in the years preceding and following that brief two-year anomaly. The major finally achieved gender parity in 2001.
French Open: The French Open was the last major to announce that they would award women and men equal pay, but they became the third to act on it in June 2006, as Justine Henin successfully defended her 2005 title and walked away with $1.5 million.
Wimbledon: In 2006, Venus Williams penned a powerful op-ed calling for equal prize money at Wimbledon, writing in part: "I intend to keep doing everything I can until Billie Jean's original dream of equality is made real."
That dream was finally realized in 2007, when Venus won and became the first woman to earn equal pay at Centre Court.
🔢 BJK by the numbers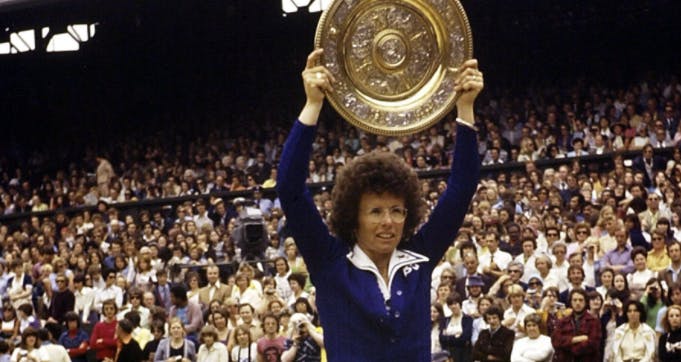 The Battle of the Sexes is just one of the many reasons we forever stan BJK, so why else does King reign supreme? Let us count the ways…
3: The number of teams BJK is part-owner of — the LA Dodgers, the LA Sparks and LA's new NWSL team, Angel City FC.
9: As in Title IX, the landmark legislation King helped to pass, testifying on Capitol Hill on the necessity of the bill in advancing girl's and women's sports at educational institutions.
39: The number of career Grand Slam titles (in singles, doubles and mixed doubles) BJK won, including a record 20 at Wimbledon. Jolly good!
100: In 1971, King became the first female athlete (in any sport) to earn $100k in prize money in a single season. Cha-ching.
🎾 Women's tennis today and tomorrow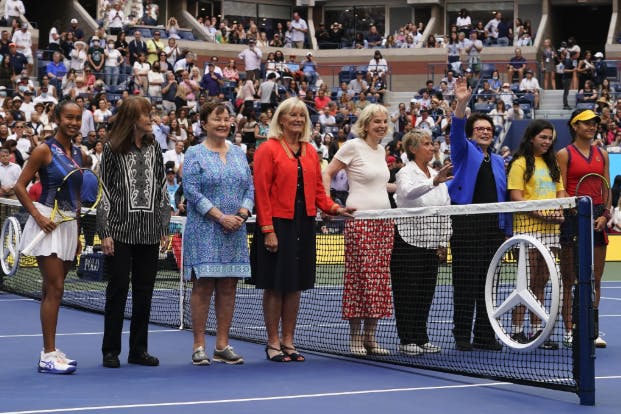 Thanks to endorsements and savvy investments, women's tennis players are some of the biggest earners in sports today. Naomi Osaka and Serena Williams top Sportico's 2021 Highest-Paid Female Athletes list, earning $55.2 million and $35.5 million, respectively, and are the only women on Forbes' "World's Highest-Paid Athletes" list.
When it comes to on-court depth, women's tennis can't be beat. Over the last 18 major tournaments, 11 players have won their first Grand Slam title. Additionally, each major in 2021 was won by a different player.
That includes last week's US Open, which saw two unseededteenagers — Emma Raducanu and Leylah Annie Fernandez — compete in the women's final (and pull in 17% more viewers than the men's final). The future's looking real bright.