September 09, 2021
SOURCE: NFL/GIPHY
MOVE ASIDE, BASEBALL.
America's real pastime is here: the NFL season begins today! And we have everything you need to know before Opening Night kickoff...or before your GIST-exclusive FanDuel fantasy draft.
QUOTE OF THE DAY
They basically stole our chance to go to the Super Bowl. Stole it away from us. Hate you, Tom Brady.
— Green Bay Packers linebacker Za'Darius Smith, talking about the Tampa Bay Buccaneers' win over the Packers in the NFC Championship. You're not the only one, Za'Darius.
⚙️ Season setup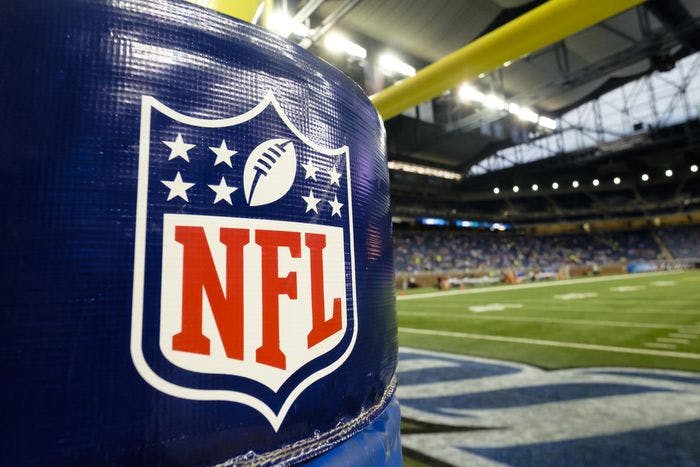 The NFL kicks off tonight — the Thursday after Labor Day, like clockwork — with a game hosted by the reigning Super Bowl champs. At 8:20 p.m. ET, the Tampa Bay Buccaneers will welcome the Dallas Cowboys to Raymond James Stadium.
A quick refresher on the league setup: the NFL has 32 teams split into two conferences, the National Football Conference (NFC) and the American Football Conference (AFC).
Those conferences are further divided into four divisions: North, South, East and West.
For the first time ever, each team will play 17 regular-season games — one more than last year — over 18 weeks (including a "bye" week), in which they play each divisional rival twice.
The top team in each division will move on to the postseason, as will the three next best teams from each conference — known as "wild cards" — for a total of 14 playoff teams.
And all of these teams are playing for one thing and one thing only: Super Bowl LVI (or 56), set for February 13th, 2022, at SoFi Stadium in Inglewood, California — home of the LA Rams and LA Chargers.
🏈 Last season's final four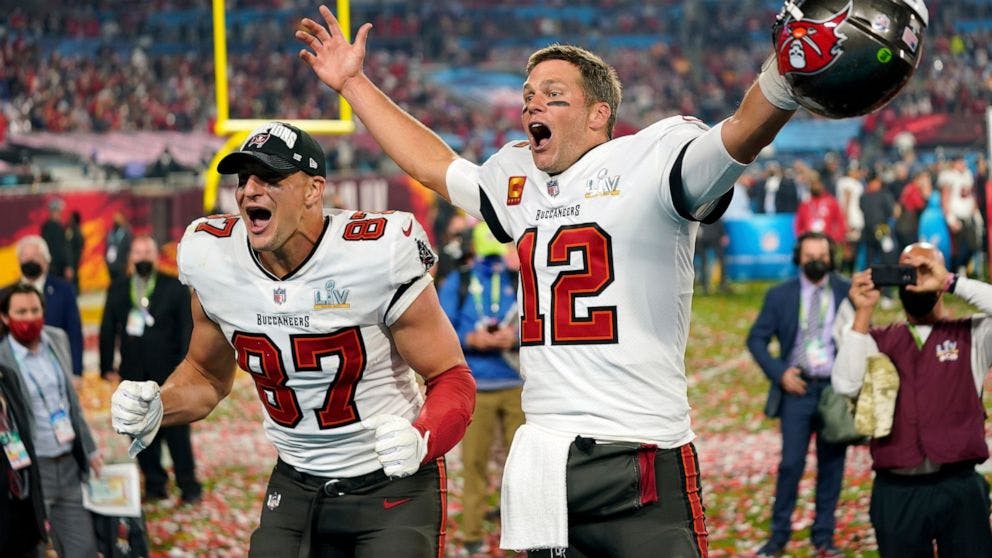 Tampa Bay Buccaneers: The reigning Super Bowl champs are ready to go back-to-back. Dream duo quarterback (QB) Tom Brady and tight end (TE) Rob Gronkowski are in prime positions to lead the Bucs to another championship, and with the fourth-easiest schedule in the league, they could become the second Florida team to record a perfect season.

Kansas City Chiefs: After losing the big one to the Bucs, KC is looking to get back to their 2019–20 Super Bowl–winning ways. Five of the NFL's Top 100 players — including No. 1, QB Patrick Mahomes — are on the squad and their core group hasn't changed much in the off-season. We wouldn't be surprised to see a Bucs vs. KC Super Bowl again.
Buffalo Bills: Ever since Josh Allen became starting QB in 2018, things have been looking up for the Bills. Last season, he led the team to their first AFC Championship Game since 1993 and first AFC East divisional title since 1995. We're predicting the Allen era will bring many more celebrations.
Green Bay Packers: Though things were looking shaky this offseason, with QB Aaron Rodgers reluctantly back at the helm, the Packers are looking primed to return to the NFC Championship Game this year. With Rodgers locked in for likely one more season, this could be the Pack's last good chance at a championship for a while.
🥊 The contenders
Baltimore Ravens: We're not going to let star running back (RB) J.K. Dobbins' season-ending knee injury stop us from including the Ravens here, because there's a back-up plan.
Gus Edwards has the size and force to break rushing records as the Ravens' starter this season, and rumor has it they're trying out RBs Le'Veon Bell and Devonta Freeman to make a pair.
Cleveland Browns: After ending a 17-year playoff drought last season, the Browns have almost everything they need to return to the postseason: an incredible roster, a steady coaching staff and a dog as their mascot.
The only uncertainty? QB Baker Mayfield. He's good, but this year, he'll need to be great.
Seattle Seahawks: The Seahawks are poised for greatness once again. Though their last Super Bowl win was in the 2013 season, they've consistently performed well in the regular season and haven't missed the postseason since 2017. If QB Russell Wilson is firing on all (or at least most) cylinders, they're in good shape.
San Francisco 49ers: This team is good. And it seems like QB Jimmy Garoppolo will be the leading man in SF this season. He led the team to a Super Bowl appearance in 2019 but was plagued with injuries last season. This should be interesting.
👀 Players to watch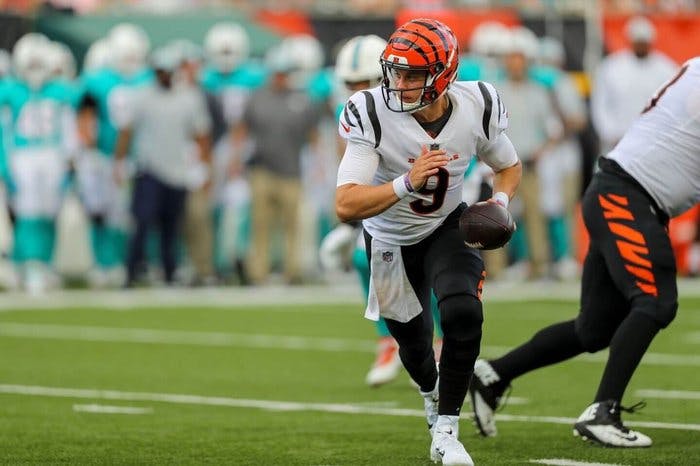 Joe Burrow, QB: The Cincinnati Bengals are probably not destined for the playoffs, but if anyone can prove us wrong, it's 2020 first overall draft pick Burrow. Before a Week 11 knee injury ended his rookie season, Burrow was breaking records like it was his job, and now that he's healthy again, he's already a favorite to win NFL Comeback Player of the Year.
Other QBs to watch: Lamar Jackson (Baltimore Ravens), Dak Prescott (Dallas Cowboys), Justin Herbert (LA Chargers)
Dalvin Cook, RB: The Minnesota Vikings aren't the most exciting team: if they were wings, they'd be honey garlic. But Cook is extra hot 'n' spicy, and he's poised to best his 1,557 rushing yards and 16 touchdowns (TDs) from last year. There's just one thing that could hold him back from recording another career-high season: he's not vaccinated.
Other RBs to watch: Derrick Henry (Tennessee Titans), Jonathan Taylor (Indianapolis Colts), Christian McCaffrey (Carolina Panthers)
Darren Waller, TE: The Las Vegas Raider has all the talent to be the best TE in the league...with none of the pressure. With Kansas City's Travis Kelce — aka No. 5 on the NFL Top 100 — stealing that spotlight, No. 35 Waller can flourish as QB Derek Carr's No. 1 receiver.
Other TEs to watch: Travis Kelce (Kansas City), Mark Andrews (Baltimore), George Kittle (San Francisco)
Stefon Diggs, WR: We give QB Josh Allen a lot of credit for the Bills success last year, but a QB is nothing without someone to pass to. Enter Diggs. Allen's top target hit career-highs in receiving yards and receptions last season — his first in Buffalo — and has everything in place to best his career TD record this year.
Other WRs to watch: DeAndre Hopkins (Arizona Cardinals), Terry McLaurin (Washington Football Team), Chase Claypool (Pittsburgh Steelers)
LA Rams, Defense: With defensive tackle Aaron Donald leading the D-line and cornerback Jalen Ramsey leading the secondary, the top defense in 2020 has high expectations to repeat. That said, they'll need to do it without former defensive coordinator Brandon Staley, who will share a stadium with the Rams as the Chargers' new head coach...awkward.
Other defenses to watch: Denver Broncos, Pittsburgh Steelers
📖 Season's storylines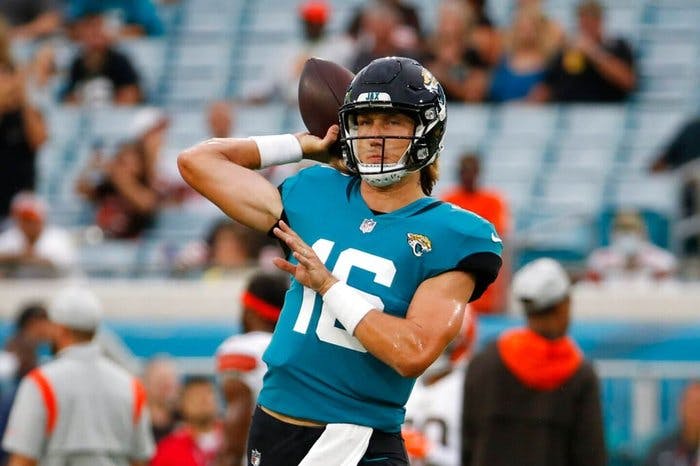 Rookie QBs: Every new season comes with a handful of bright-eyed young QBs ready to make their mark on the big league. Some will flourish, some will flounder, only time will tell. This year, we'll be watching Jacksonville Jaguars' Trevor Lawrence, New England Patriots' Mac Jones, Chicago Bears' Justin Fields and New York Jets' Zach Wilson.
Schedule changes: COVID-19 did a number on the NFL's schedule last season, so the league is cracking down this year, warning teams that outbreaks among unvaccinated players could lead to forfeited games.
Meanwhile, climate change is already shaking things up: the New Orleans Saints have had their first game moved to Florida due to recent damage from Hurricane Ida.
📺 How to watch
The fun starts now. Tune in to NBC in the U.S. and TSN in Canada at 7 p.m. ET tonight to catch Ed Sheeran ring in the new season (weird flex, but okay) before opening kickoff at 8:20 p.m. ET. And then check out the full schedule and TV coverage for your favorite teams and players here. Hut hut!